We give our sincerest sympathies to the Great East Japan Earthquake victims.
Our website has been redesigned. (New net store will be available soon)
Our "Peanuts Paste" was introduced on the Nikkei magazine, the Otona no Off and acclaimed by Ms. Ramune Murayama.
Our "Peanuts Paste" was introduced on the Zasshi Mart, in the featured section titled "My special recipe with bread".
Our confections were introduced by the dancyu, a food information magazine published by President Inc.

We are producing soybeans confections with the motto of "make the best use of natural flavor to produce simple, healthy and delicious confections".
With our traditional techniques and modern installations, our confections are produced carefully and cordially using well-selected peanuts/soybeans.

We will continue to keep our inherited techniques from the originator.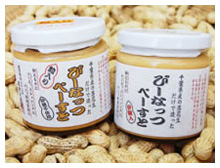 Our Peanuts Paste is made with carefully grinded peanuts from Chiba prefecture. To protect flavor and nutrients, we use black granite roller that absorb heats that badly affects to flavor and nutrients. Sugar-free type of Peanuts Paste is made by simply grind peanuts and can be used wide range of cooking. Also, sugar-free healthy paste has natural sweetness that matches well with breads. Sugar-added type includes a little sugar to smoothen the paste and best match with breads.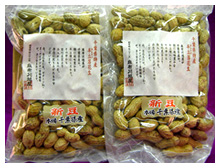 Our roasted peanuts use han-dachi peanuts, specially-cultivated peanuts with have rich flavor. Peanuts are cholesterol-free and rich in fatty mineral (oleic acid and linoleic acid), protein, vitamins (especially vitamin E), and polyphenol. This is why peanuts are famous and drawing attentions as health food. We use well-selected han-dachi peanuts produced by contract farmers and roast them carefully by traditional technique without seasoning such as salt. We roast peanuts after receiving order from customers and ship immediately.